Wed, Jun 11th - 9:24AM
The Gates of Hell Are Opening in Mexico City
Today we're going to discussing how the "power of death" is manifesting over certain regions of the globe, and I'm going to be giving you a word I received last night about #Mexico City.  The video of this teaching is located here: https://www.youtube.com/watch?v=m2coR1cjDDM&list=PLp1Jmj66RcF2t6LqjYznWmjBs7GxyBrF1
1 John 5:16-21
If anyone sees his brother committing a sin not leading to #death, he shall ask, and God

will give him life—to those who commit sins that do not lead to death. There is sin that leads to death; I do not say that one should pray for that. 
All wrongdoing is sin, but there is sin that does not lead to death.
We know that everyone who has been born of God does not keep on sinning, but he who was born of God protects him, and the evil one does not touch him.
We know that we are from God, and the whole world lies in the power of the evil one.
And we know that the Son of God has come and has given us understanding, so that we may know him who is true; and we are in him who is true, in his Son Jesus Christ. He is the true God and eternal life. Little children, keep yourselves from idols.
1 Corinthians 15:54-56
When the perishable has been clothed with the imperishable, and the mortal with immortality, then the saying that is written will come true: "Death has been swallowed up in victory."
"Where, O death, is your victory?
Where, O death, is your sting?"
The sting of death is sin, and the power of sin is the law.
Matthew 16:18
And I tell you, you are Peter, and on this rock I will build my church, and the gates of hell shall not prevail against it.
Psalm 23:4
Even though I walk through the valley of the shadow of death, I will fear no evil, for you are with me; your rod and your staff, they comfort me.

The sculpture is called "The Gates of Hell" and is located at an art museum in Mexico City.
Mercado de Sonora (Sonora Market) is a city-established traditional market, located just southeast of the historic center of Mexico City in the Colonia Merced Balbuena neighborhood. It was established in the 1950s with a number of other similar institutions in order to help regulate retail commerce in the city. This market has specialized in a variety of merchandise such as pottery, party items, and live animals — and the two which make it notable, herbal medicine and items related to magic and the #occult.
Medicinal herbs and magical items[edit]
Items related to Santa Muerte and others.
What makes this market different and famous are the aisles dedicated to medicinal plants, magic and the occult, which are only two located in the back of the large nave.[1][8] This part of the market attracts customers from most socioeconomic levels,[9] as well as tourists.[3] as it is promoted in various guide books.[10][11][3] The two types of products, herbal medicines and magical/occult items, are not completely separate, as for centuries traditional Mexican herbal medicine has been strongly linked with religious and magic practices.[1] The variety of medicinal plants sold is vast and include avocado leaves for inflammations, chiranthodendron for the heart, jacaranda flowers for the stomach and more. There is also dried rattlesnake, which is considered a medicine against cancer, dried skunk to "strengthen the blood," and starfish.[1] Plant items more strongly associated with magic and religion include crosses of ocote wood for good luck, chains of garlic to ward off evil and a seed called "deer's eye" to protect against the "evil eye."[1]
The market sells occult items related to magic (white and black), pre-Hispanic religious and magical traditions, Santería, the cult of Santa Muerte, shamanism, and various others which demonstrate the syncretism of beliefs and practices that exist in the city.[3][1] The market is one of the city's centers for practices related to Santería and the worship of Santa Muerte. It is estimated that 2,000 people each weekend come to the market specifically for this section of the market.[12] Items for sale include amulets, horseshoes, candles in a wide variety of sizes, shapes and colors, with many of the colors have very specific functions, gold dust, black salt, powders of unknown ingredients, water of Saint Ignatius[disambiguation needed]-to ward off unwanted attention, aromatic lotions and soaps, many of which are related to love spells and more.[1]
The most popular items are those related to love. There are candles, oils, amulets, soaps, needles, lotions, tobacco, herbs, and services such as spell casting and cleansings all geared to finding, keeping or recovering love. Products have names such as atrapahombres (trap men), ven a mi (come to me), miel de amor (honey of love) and Amansa guapos (tame handsome men). Most are related to ritual use of some kind, even as simple as burning a candle. Others are more complex with a mix of occult and standard religious practice.[9][12] As late as the 1990s, before medical abortion was legalized in Mexico City, one herbal remedy sought in the market was one to promote the termination of a pregnancy. Those who sold it did not give the treatment, rather they instructed the client what to use and how. The client was responsible for preparing the mixtures and taking them in order to take on the medical and legal risks onto themselves. Medical risks were serious as the treatment always led to excessive hemorrhaging which would require medical attention.[13] During the H1N1 flu scare in 2009, business fell at the market about 50%. However, for herbal medicine sellers, demand for a 10-herb blend designed to prevent and treat the flu kept a number of vendors solvent. The remedy includes eucalyptus, bougainvillea and tejocote fruit, selling for 80 pesos per kilo. During the same time period, merchants selling Santa Muerte paraphernalia reported selling a significant number of white dresses for the images, as the color is associated with health and purity.[14]
http://en.wikipedia.org/wiki/Mercado_de_Sonora
10 most terrible and frightful places of the world
3. The magical market Sonora in Mexico City, Mexico.  The witches of Mexico, sitting in small booths, for 10 dollars promise a fast deliverance from poverty and adultery. There are tortured exotic iguanas, frogs and wild birds, hanged on the walls of tents in cages for sale. The market Sonora is opened every day for pilgrims from Mexico and tourists from the distant places who go for destiny predictions and promises of the best life. This is that place where all the local population gets some new "supernatural" thingamajigs, beginning from potions of the ancient Aztec formulae up to the Buddha statues. The stubborn enthusiasts, probably, will manage to buy here a little blood of a rattlesnake or the dried hummingbird for achieving success. But it is necessary to remember that sorcery in Mexico is not a joke: the National association of sorcerers was involved in the presidential elections in order to transform them in fair and free ones, using invocations.
http://www.streetdirectory.com/travel_guide/212906/travel_and_leisure/10_most_terrible_and_frightful_places_of_the_world.html
Child Organ Harvesting And Trafficking-Linked Arrest Made In Mexico
MEXICO CITY (AP) — Police in Mexico's western state of Michoacan detained an alleged member of the Knights Templar cartel who is suspected of kidnapping children to harvest their organs, an official said Monday.
Michoacan state Public Safety Secretary Carlos Castellanos Becerra alleged that Manuel Plancarte Gaspar was part of the cartel's organ-trafficking ring. The ring would kidnap children and take them to rented homes with medical equipment where their organs were removed, Castellanos Becerra charged.
"We have several statements in open investigations that point to a network of several suspects who would identify people with certain characteristics, especially children, and kidnap them," he said.
Castellanos Becerra said the cases go back several years, but he said he couldn't give any specific details or discuss evidence because the investigation is still open.
Plancarte Gaspar, 34, was detained last week along with another suspect in a stolen car. The men also had some crystal meth, Castellanos Becerra said. He said Plancarte Gaspar is the nephew of Enrique Plancarte Solis, a top Knights Templar leader.
Hours before the announcement, a leader of one of the local vigilante groups that sprang up last year in Michoacan to challenge the cartel's control told a radio station that people in the area knew the Knights Templar gang was involved in organ trafficking because several children had been rescued in his town while being transported in a refrigerated container inside a van.
"They were inside a refrigerated box, tightly wrapped in blankets," Dr. Jose Manuel Mireles, leader of the civilian "self-defense" group in Tepalcatepec, said in a morning interview with MVS radio.
Mireles said the van carrying the children was headed to the port city of Lazaro Cardenas and ended up in Tepalcatepec after making a wrong turn.
"They were all children from the same Mexico City school," he said.
He said the children's parents had allowed them to go on an outing to the beach when they were likely kidnapped. He said the children were turned over to their parents who traveled to Tepalcatepec.
Mireles didn't say when the children were rescued and didn't answer his cellphone Monday.
Mexican authorities have said drug trafficking is no longer the top source of income for the Knights Templar, which was once a top producer of crystal meth. The officials say the cartel's main sources of income are illegal mining, illegal logging and extortion.
http://www.huffingtonpost.com/2014/03/17/child-organ-harvesting_n_4982854.html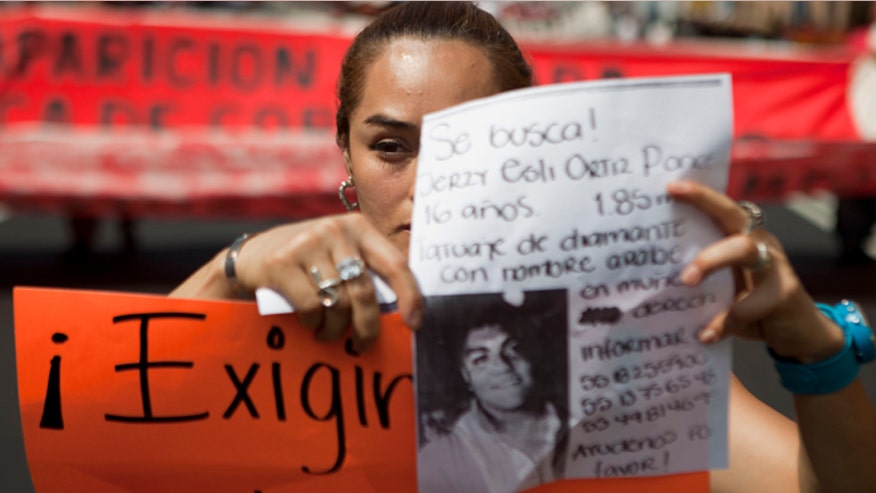 11 vanish from Mexico City bar in suspected mass kidnapping
MEXICO CITY –  Eleven young people were brazenly kidnapped in broad daylight from an after-hours bar in Mexico City's Zona Rosa, a normally calm district of offices, restaurants, drinking spots and dance clubs, anguished relatives said Thursday.

The apparent mass abduction purportedly happened sometime between 10 a.m. and noon on Sunday morning just off the Paseo de la Reforma, the city's main boulevard, near the Angel of Independence monument and only about 1 1/2 blocks from the U.S. Embassy.

The incident was the second recent high-publicity blemish for the city's largely unregulated entertainment scene, coming 20 days after the grandson of American civil rights activist Malcolm X was beaten to death at another tough bar in the downtown area.

Calling for authorities find their loved ones, family members marched Thursday morning from the Interior Department building to the Zocalo, the city's main square. Later they protested outside the bar, which bears a sign that reads Bicentenario Restaurante-Bar, and demanded to see the bar's surveillance video.

"How could so many people have disappeared, just like that, in broad daylight?" said Josefina Garcia, mother of Said Sanchez Garcia, 19, her only son. "The police say they don't have them, so what, the earth just opened up and swallowed them?"

She said her son wasn't involved in any criminal activity, and worked at a market stall selling beauty products.

City prosecutors said they had received 11 missing-person reports, but Garcia said residents of the tough downtown neighborhood of Tepito where the victims live thought as many as 15 or 16 people could have been abducted.

The known missing include six men, most in their 20s, a 16-year-old boy and four young women.

While no clear motives had been revealed in the attack, residents of Tepito said there has been a wave of abductions of neighborhood young people in recent months that could be related to organized crime activities. Tepito is the center of black market activities in the city, where guns, drugs, stolen goods and contraband are widely sold.

Mass abductions have been rare in Mexico City, but are common in parts of the country where drug cartels operate and are fighting with rival gangs over territory.

Prosecutors slapped closure stickers on the front doors of the bar Thursday, with inscriptions saying the city's anti-kidnapping unit was investigating abductions at the site.

Isabel Fonseca, whose brother is among those missing, said a man who escaped told her that masked men arrived in several white SUVs and took the group away. She said her brother, Eulogio Fonseca, is a street vendor who sells cellphone accessories.

"We want them alive," Fonseca said. "They went out to have fun; they are not criminals."

Mexico City's chief prosecutor, Rodolfo Rios, said investigators had been able to glean very little information on the disappearances.

Relatives believe the youths were at the club, which they said is called "Heaven," around midmorning Sunday, when waiters and bar employees herded them out to the street and armed men bundled them into waiting vehicles and spirited them away.

Rios said police had not located any employees of the bar and no other witnesses had presented themselves.

"We aren't sure what exactly occurred," he said. "No witness has come forward to say anything about any armed gang."

The bar is down a side street from two high-rise office buildings that look out on Reforma and sits across the narrow road from beauty salons and a sushi restaurant.

Guillermo Bustamante, owner of one the beauty parlors, said the street bustles every Saturday morning with people coming and going from the bar.

"Every time we arrived on Saturdays, we would see weird people coming out of that bar," Bustamante said. "There would be many Hummers parked outside and men walking out with a woman on each arm."

Bars of questionable character are often allowed to continue operating, even though drugs may be sold inside and the businesses frequently violate rules governing closing times, parking and serving alcohol to minors.

Malcolm Shabazz, grandson of the late Malcolm X, died May 9 in a fight that erupted after he and a friend were presented with a $1,200 bill at a seedy bar near Plaza Garibaldi, a gathering place for mariachi bands in a rough neighborhood in the downtown area. Two waiters at the bar have been arrested in connection with Shabazz's death.

In June 2008, police raided another Mexico City bar to investigate drug and alcohol sales to minors. A stampede ensued as panicked youths rushed for the exits and police tried to stop them. A dozen young people died in the stampede.

http://www.foxnews.com/world/2013/05/31/11-vanish-in-mass-kidnapping-from-mexico-city-bar-20-days-after-killing-malcolm/

Revelation 2:13

"'I know where you dwell, where Satan's throne is. Yet you hold fast my name, and you did not deny my faith even in the days of Antipas my faithful witness, who was killed among you, where Satan dwells.



Comment (0)